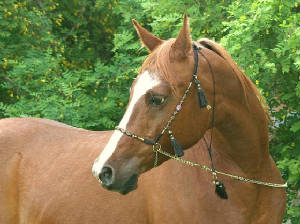 Video coming soon.
 

Ramses Fayek (Nazeer x Fayza II)

Ramses Amal (Alaa El Din x Manal)

 
 
 

Mameluck (Hadban Enzahi x Moheba II)

Mashoura (Ibn Galal I x Haseeba)
1988, Chestnut Mare."Granny" as we call her is a sweet Mare, with a beautiful high set, nicely shaped neck, a great hip, and excellent bone, with straight legs and all though not typey, typey but very classy... she has a great eye and beautiful shaped head . Her Pedigree speaks for it self, With this combination of greats her 2010 foal by
"Ibn Ben Malik"
Should be outstanding, Baby will have a Unique Pedigree with (No Minstril)...
Feel Free to Inquire... If the foal is a filly we will be retaining it, If a colt we will be offering it for sale.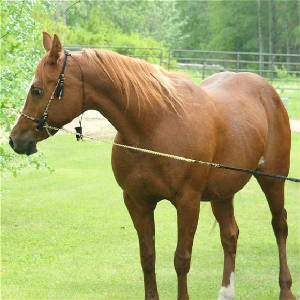 The following is taken from the book, "Authentic Arabian Bloodstock," by Judith Forbis
Hadbah Enzahiyah strain
GENERALIZATION OF CHARACTERISTICS:
Most distinguishing characterisitics: handsome and elegant. Great endurance and strength are among the Hadban trademarks. They are very good all around horses, having perhaps the finest blood to produce cavalry horses as well as excellent race horses.

HEADS: Can be somewhat boney and straight in profile. Pyramidical in shape. Very wide across the forehead and between the jowls. Relatively short skull. Eyes large and lustrous. Nostrils large and well-shaped. Ears relatively small.

NECK: Relatively long but in balance with body. Mascular, yet refined. Set on more upright than the Kuhaylan.
The Hadban are listed as the fourth preference among all the horse strains meticulously described in the Abbas Pasha manuscript.

The Hadban are a substrain of Kuhaylan, but in modern day they tend more to the Saklawi in type.

The Hadban are a great "blending" strain. Some of the most renowned breeding stallions in modern Egypt have come from this strain, (e.g., Ibn Rabdan, Nazeer, Aswan).

The Dafeer tribe were prominent breeders of this strain. The origin traces to the ancient tribe of Beni Lam.

The name derives from a mare of the Beni Lam. The mare had a profusely long mane which covered her forehead completely (hadba salifa) and for that reason she was called Hadba. And the strain was named after her.