Ben has proven to us he throws quality and type in his foals. Beautiful extreme heads with nice tippy ears and long straight legs with great conformation. Each one has beautiful Presence and a wonderful attitude.

If you would be interested in breeding your mare to Ibn Ben Malik, or Supreme or aquiring a foal due from one of our mares for yourself please feel free to contact us.
I pray that gentle hands may guide my feet; I ask for kind commands from voices sweet; At night a stable warm with scented hay, Where, safe from every harm, I'll sleep till day. -Anonymous, "A Pony's Prayer
SOLD!!!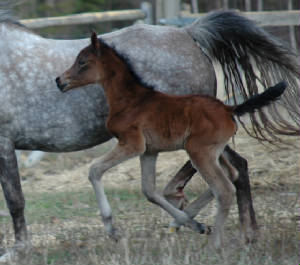 FTA's Analla (pending)
ES California Dreamin x JM Dream Venture Pedigree
We are so excited to announce A Beautiful Filly, Born May 6, 2009 FTA's Analla (pending) She is Exotic with a Long Clean neck, Short Back, and Type, Type Type, Along With Beautiful Long legs, This filly is Exactly What we were Hoping For with this Cross... JM Dream Venture x ES California Dreamin Gazal Al Shaqab x AB Fareneit.
Born May 28th 2009 A Stunning Straight Egyptian Black Colt. ( Shamoniet Nasheeta (A "Pure Bentwood", "Double Moniet El Sharaf Mare") x Lieben (Ibn Ben Malik x Egypts Secret (Sayeed (Morafic) X Nessma (Ibn Hafiza
"FTA's Emir" (Prince) This is the first Grand Foal of our Senior Stallion "Ibn Ben Malik" and we couldn't be happier with him. He has all the characteristics we were looking for in this cross and more, from his strong straight legs, to a short back, typey head and his upright neck set. His Animated movement is just a joy to watch...
INQUIRIES WELCOME.