Standing in Crooked Creek Alberta. North West of Edmonton. LFG. Only Live Cover at this time.
Ibn Ben Malik's Book is full for 2009
Breeding fees: $1500.00.... 5% GST will be added onto the breeding fees and mare care.... $250.00 Booking fee due at signing of the breeding contract.
Ben will no longer be standing to outside mares after 2009.
Contact us for foals that may be offered by Ibn Ben Malik.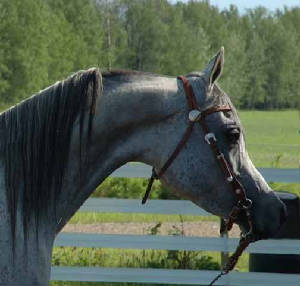 Straight Egyptian,
Al Khamsa, Asil
Sweepstakes Nominated Sire
Ibn Ben Malik (
Ben Malik
x MB Marammena) - Malik x Nil Nour -Tammen x Marrida.
Ben is a bold and Proud Stallion of the Elite of Germany crossed with the some of the Best of the US Straight Egyptians, His Classic German appearance is combined with his calming attitude, Ben is caring and gentle as he watches out for a child on his back then he immediately turns into the fiery "war horse" when an experienced rider is on his back!
His royal expression and his noble character goes part in part of who he is.
For those who are looking for classic type, charisma, and beauty that is undeniable Arabian this is what he passes on to his foals..His foals have been exported to the Middle East, US and all through out Canada.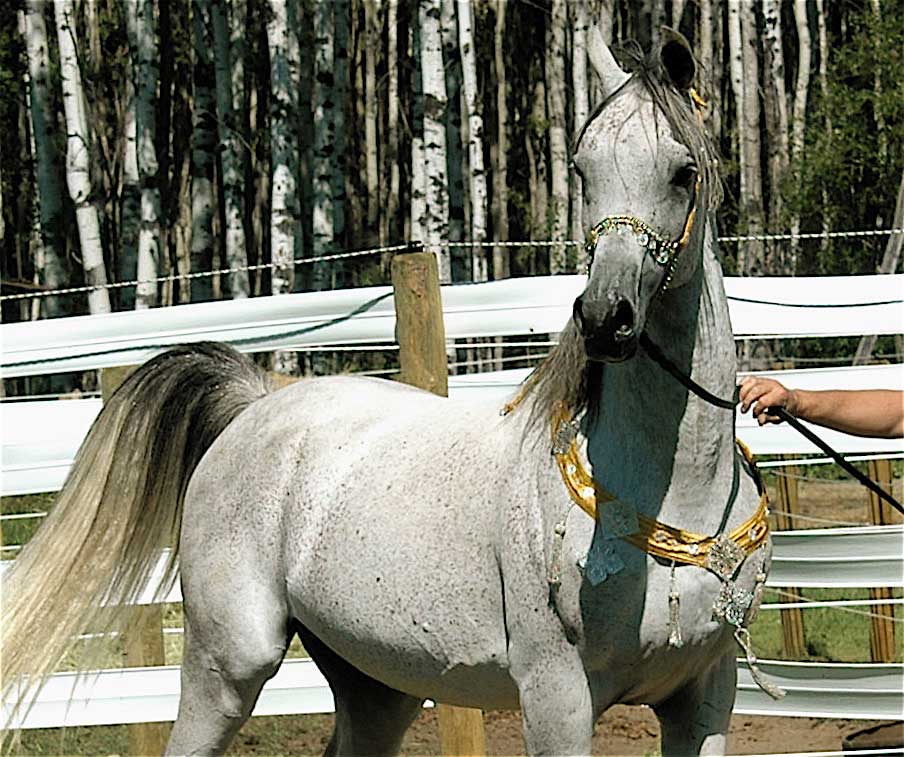 Ben's Sire "BEN MALIK"(*MALIK X *NIL NOUR) is an Isreal Reserve Junior Champion and Top Ten at the Egyptian Event. His Foals have made a name for them selves at Egyptian Events.

"BEN MALIKS" Full sister "MUSALIAH" is owned by Ariela Arabians In Isreal and is the Dam of Multiple Champion Stallions as well as Mares....

Ben's Dam "MB MARAMMENA" out of (TAMMEN X MARRIDA) In 1994, "TAMMEN" was named the third leading Egyptian sire.. At the 1993's Egyptian Event in Kentucky, four out of the Top Five mares were Tammen daughters (including the champion and reserve!)

Kuhaylan Rudan Strain
"The Kuhailans traditionally of shorter, broader heads, deeper bodies and more rounder appearance. Egyptians have both the Rodan strain from Crabbet and the Jellabi strain from Prince Mohammed Ali's stock. The Rodans still show more similarity to Crabbet stock, being longer in the back and notably good movers."
Of the dappled grey the Arabs say, "If he is like the stones in a river, he will refill the camp when it becomes empty, and he will save us in combat on the day when the firearms clash."