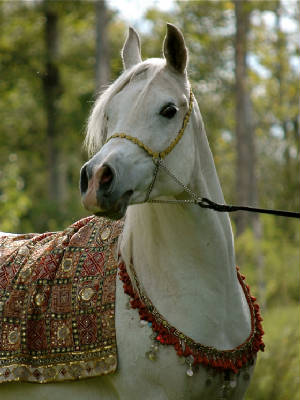 Straight Egyptian, Al Khamsa, Asil, Blue List Eligible Mare..."Dani" is Phenomenally Bred, Her Sire "Rasmoniet RSI is an international Show winner and acclaimed Sire of horses around the world. Sired by *Rashad Ibn Nazeer and out of the famed Bint Moniet El Nefous he is a full brother to Bint Bint Moniet and descends from one of the most Cherished dam lines known in the Arabian Horse Breed. "Dani's" dam is *Daniya,, imported in-utero she is sired by Ameer Al Badeia, bred by the Al Badeia std in Giza, Egypt and owned by Al Rayan Stud of Qatar. *Daniya's Dam, Haniya is sired by Kayed, A *Morafic Son and foundation Stallion of Al Badeia Stud. *Haniya descendants include multiple show winners in many countries including Thee Elixer.
 

Rashad Ibn Nazeer by: Nazeer

Bint Moniet El Nefous By: Nazeer

 
 
 

Ameer Al Badeia By: Kayed
Dani has blessed us with an incredable Straight Egyptian filly in 2007 "This filly was Exported To the Middle East" Dani will be bred back to
Feel Free To Inquire.